"I enjoy the training because it's specifically targeted to my needs and varied so it's interesting I always leave feeling and knowing I am making progress with noticeable results. I am much more aware of how I move,I am definitely stronger and it has done wonders for my balance - and it has also improved my confidence in my abilities. You're never too old to start training. I always look forward to coming to my sessions."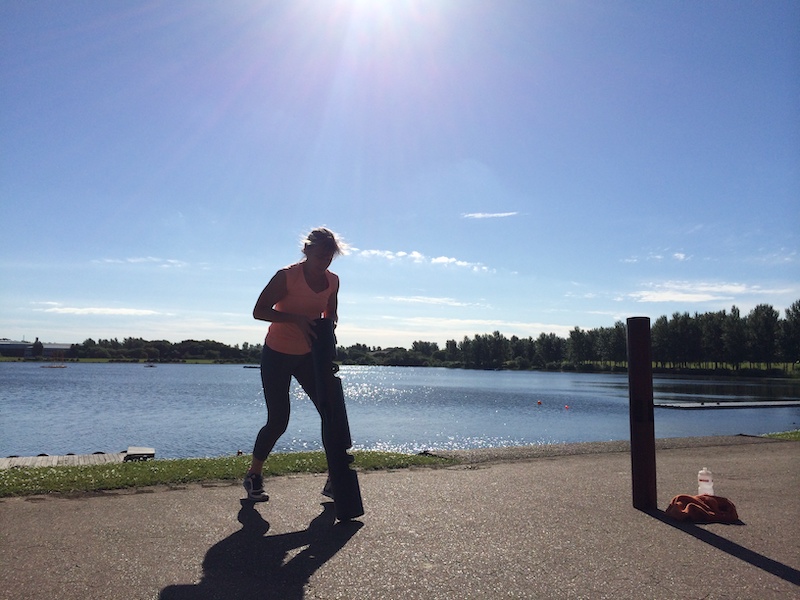 "I love training with you for so many reasons. You are patient and considerate. You always listen and cater for any aches or pains I might have, although, thanks to you, there are rarely any of those these days. You vary my workouts to suit and it never feels repetitive or a chore. Always enjoyable. I feel positive and uplifted. You have encouraged me and given me the confidence to work harder and build up to lifting and working with more and more weight but in a controlled manner. This has helped me so much with strengthening what was a weak back but is now as strong and solid as ever. It's been life changing.
"I love training with Gareth because I know his methods work. My partner snapped his Achilles' tendon 4 or so years ago and Gareth was a key element to him walking and running again. To me, he had a proven track record and it was a personal connection for me. What feelings do I leave you with? When I work with Gareth he always manages to push me further than I would go if I was in my own. He has an uncanny knack of taking it one step further than you'd normally go, because he has more faith in you, than you do yourself. What difference have I made to your training and/or results. I always leave my training sessions with Gareth wanting to do more. By my very nature I am not a gym lover, but I do want to do more. I think it's about confidence and being able to understand your capabilities. You can be your own worst enemy... but Gareth is a voice of reason that encourages you to do more!!"
I love to train with you, because you're approach is reassuring, I feel we work very much as a team, to guide me to reach my goals. You overall knowledge of fitness and wellbeing is exceptional. The feelings you leave me with after each training session is i feel reinvigorated, loads of energy . Emotionally and mentally I'm on a massive for the rest of the day. The difference you make to my training , is you ensure my goals are achievable.
"Gareth understands what we want to achieve, he pushes us but at the same time appreciates what we are capable of doing. We are much stronger and fitter, more toned, have changed shape and generally feel much better. We enjoy and look forward to the sessions; we do a mixture of exercises so no session is the same and afterwards we feel like we have achieved something. Meeting with Gareth each week makes us take the time do exercises to benefit our running, something we weren't good at doing. We are members at a local gym but find that the PT sessions they run are just not geared around us. Gareth points out where we are going wrong and explains the mechanics of why we need to do things in a certain way."
"I would have no hesitation in recomending Gareth he is a true professional who understands the mechanics of the body, structures your plan in accordance with ability and progresses in a sensible way. I have certainly benefitted from our sessions and look forward to developing more for the future."
"Training with Gareth produces instant results his understanding of how the body works is crucial to this as I have joint problems that are painful and restrict movement. After every session I feel the benefit. Gareth is so supportive always coming up with ideas on ways to improve your wellbeing if you arrive at a session feeling down you always leaving feeling much better physically and mentally He's not judgemental "don't be to hard on yourself" is one catch phrase he often uses to encourage you to get back up into the saddle so to speak Gareth keeps me going without him I don't think I'd be able to do the job I'm doing at the moment I can't think of a better testimony to give him than that."
"I have used Gareth for over 10 yrs. over this period I have always been confident to entrust him with my broken body. I have over this time had two hip replacements and several back operations. Gareth as kept me going whilst waiting for operations and rebuilt me afterwards. When planning an "expeditionI" I always go to him for training and a training plan. HE'S MY GO TO MAN!"
"Before seeing you I had been in constant pain for over six weeks and had seen my GP who prescribed ibuprofen and paracetamol. What fears or worries did you have about making the decision to start training with me? None, having known you for some time and knowing your background I had no concerns. That and you told me I had to come see you! 😀 What happened between then and now? I am pain free! What specific results do you have now? I was 95% pain free at the end of the session, apart from aching! After a couple of days I was completely pain free. How do you feel and how has your life changed as a result? My life is back on track. I had had to stop the 14km walk to and from work, stop running and had been sleeping poorly because of the pain. All of that is changed. I am even ready to get back running again. Thank you for making everything ok again and I will be back in a few weeks for some more resins to make sure everything stays as it should!."
"I love training with Gareth because he understands what I need, and sees what I think I need. He understood that I had a child coming and that while I may want to focus on one thing, it wasn't what I needed. We worked on core strength and how to persist that post child. Gareth was inspirational not just in my activity but also In how I developed.!"
"I train with you because you are the only one who targets my shoulder without ignoring it. You leave me with hope it can get better. My shoulder has improved with range of movement.."
"Training is very good and different to what I would do if I was on my own. It makes a massive difference to my back and I can always tell when I have not been. It has given me confidence to deadlift again as we have built it up at a sensible rate without risk of injury. I use some of the techniques we use in my normal workouts now which is great as it provides good variations."
"Gareth encourages me to do more than I think I can. Actually, I can do it & not to be afraid to try. I've had a bit if a light bulb moment recently regarding food & Gareth is so encouraging. Through him I've discovered I quite like & enjoy weights.."
"I love training with you because you are the only person who has got to grips with and understood the back problem I had. Note HAD! If I have ever felt sluggish on arrival I have left more energised and I always look forward to seeing you."